1) Lost
2) Generation Kill
3) Supernatural
4) Breaking Bad
5) Battlestar Gallactica


01. Who's your favorite character in 2?
ARG! The pain! I want to make Brad/Nate one super awesome hot man stud of an entity, but since that is not possible I will go with my bebe Lt. Nate Fick played by Stark Bebe Sands.

02. Who's your favorite character in 1(Lost)?
DESMOND! YOU ADORABLE, BEARDED, SPACE-CONTINUEUM BENDING, UNIVERSE HOPPING, HOPELESSLY ROMANTIC WEARER OF SEXY SHIRTS!!!! DESMOND IS AWESOME AND JACK BETTER GET HIM OUT OF THAT WELL SOON OR IMMA HAFTA SLAP A WILSON!

03. What's your favorite episode of 4(BB)?
Oh damn. Don't you know this show has no bad episodes???? Jesus, its a tie between Peekaboo and Grilled.

04. What's your least favorite season of 5 (BSG)?
The last one. I didn't care about the whole "getting to know the Cylons and their weird creepy ship" stuff or at least thought they spent too much time on it. Although I did love the focus on the final 5, but the finale was so very very very very very very disappointing that for a while it ruined the entire series for me. I got over it but it affected the way I felt about this season.

05. Who is your favorite ship in 3 (SPN)?
Well I guess it still is Dean/Castiel, but its no fun anymore now that the show runners are aware of it and the 5th season have basically erased whatever chemistry was there in the first place. Instead we get awkward, misguided and stupis scenes like the one in Free to Be You and Me. Urg, I hate to love to complain about the deterioration of those two.

06. Who is your anti-ship in 2 (GenKill)?
Hmm Brad/Ray. I'm sorry I just don't want to imagine those two having sex. Or maybe just Ray having sex. Or maybe just Ray acting like a responsible adult. Or maybe Ray is like the meddling female in my mind trying to disrupt the epic love that is Brad/Nate.

07. How long have you watched 1 (Lost)?
Awwwww! I remember the pilot and being like O.O!!!! I lost faith in the middle of season 3, but started watching again by the finale just in time to be wowed again. Now its almost over and I am very very very very sad.

08. How did you become interested in 3 (SPN)?
Purely shallow reasons. Back when CityTV was advertising for the pilot. It was a very very good promo that ended with some hot guy all full of dirt saying "No chick flick moments." I was intrigued.

09. Who's your favorite actor/actress in 4 (BB)?
Bryan Cranston. Season 2, Episode 12 "Phoenix". I have never ever ever been so amazed by an actor. Never ever ever.

10. Which do you prefer: Show 1 (Lost), 2 (GenKill) or 5 (BSG)?
Lost. Generation Kill as a whole is better than Lost, but thats not fair cause GenKill is 7 hours of awesomeness and Lost is 6 seasons of (mostly) awesomeness. And BSG never had me yelling and crying and gasping all at the same time almost every season. I've never had a show that made me care so much about so many character with a strong plot that I cared about equally behind it. Just the fact that I'm so depressed that its almost over shows me how much this show has meant to me.

11. Which show have you seen more episodes of, 1 (Lost) or 3 (SPN)?
uhhhhhhh Lost cause its on season 6 and spn season 5. But who knows maybe spn will go on to make 7 seasons (not necessarily a good thing)!

12. If you could be anyone from 4 (BB), who would you be?
LOL!! Everyone is so goddamn miserable in that show! I'd have to say Gus. I mean just look at him!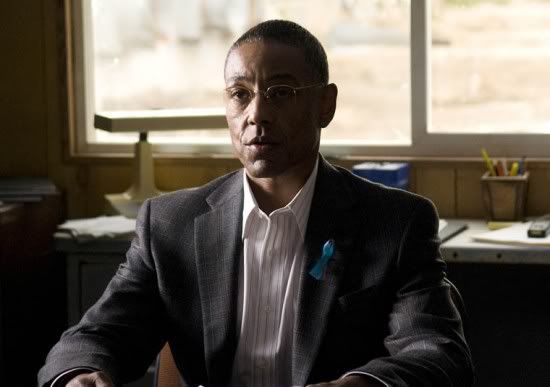 He's so cool. He sells deep-fried chicken and meth and the Mexican drug cartels call him The Chicken Man. What more would you want?

13. How would you kill off your favorite character in 1 (Lost)?
DESMOOOOOOND! NO CAUSE DESMOND HAS TO LIVE HAPPILY EVER AFTER WITH PENNY AND I DON'T CARE IF WE HAVE TO HAVE 40 MORE SEASONS AND MAKE IT LIKE THE NEXT CORONATION STREET, TROPICAL-CREEPY-ISLAND EDITION, CUZ DESMOND IS GONNA DIE OF OLD AGE WITH PENNY AND CHARLIE AT HIS SIDE AND WE SHALL ALL CRY AND CRY AND CRY.

14. Give a random quote from 1 (Lost).
"What?"




15. Which character from 5 (BSG) would be a good guest star on 2 (GenKill)?
Oh shit! Admiral Adama cause you know he'd get to Iraq and be like "WTF is this clusterfuck! This is not how you run an army! My whole fucking species almost got wiped out and I spent 6 goddamn years being chased by crazy-ass androids that my dad's boyfriend helped create only to find out that all that stuff about that stupid fucking opera house was bullshit and Earth is a fucking ash tray and were in Africa now and WHERE THE FUCK DID STARBUCK GO AND WHY IS SHE A COFFEE FRANSHISE??????"

16. Would a 3/4 (SPN/BB) crossover work?
Fuck yeah! You know someone in fandom is that awesome. Although I can't promise Sam and Dean won't get shot to death by crazy Mexicans in impeccably tailored suits.

17. Pair 2 characters in 1 (Lost) that would make an unlikely but strangely okay couple.
Hmmm...Sawyer/Faraday. I'd read it!

18. Has 5 (BSG) inspired you in any way?
Hmmmmmmm...not really. Except that I hopefully inspired other scifi writers to write intelligent and mature shows like this one.

19. Overall, which show has a better cast, 2 (GenKill) or 4 (BB)?
Oh damn you! I'll let the Emmys decide and they choose two time Emmy award winner Bryan Cranston. But Genkill doesn't really have a bad actor amongst them while BB has Walter Jr.

20. Which has better theme music, 3 (SPN) or 5 (BSG)?
Uhhhhhhh considering I'm not a fan of a 2 second CRACKLE CACKLE POW that Spn has as its opening I'll go with BSG which incidentally has AWESOME theme music!! Its even on my Ipod cause I am a geek.